ELITE ERA TECHNOLOGY
HAND-LAID CARBON COMPOSITION
Deliberately designed; the Era integrates Elite's signature dual cage riser which like Elite's highly machined aluminum risers, adds rigidity through key transition areas – where it's needed most while utilizing premium hand-laid carbon to make up the body of the bow's mere 3.95 pound weight and 31.25" platform.
NEW SP CAM
Featuring the NEW SP Cam along with the V2 Micro Mods, shooters can fully create the exact holding weight, draw length, and back wall preference they desire. Operating in perfect synchronization, the SP Cam substantially optimizes the Era's efficiencies for greater performance and the ¼" draw length adjustment allows archers to fine tune to their precise draw length.
WIDE LIMBS
As architects of accuracy, Elite Archery is laser-focused on optimizing the shooting experience to offer archers the next level of confidence. Uninterrupted accuracy is brought to life through combining wider limbs with a strategic weight distribution on Elite's dual caged riser to give archer's a shooting platform that enhances aim-ability and balance for faster shot acquisition.
BUILT FOR THE LONG HAUL
Fast and silky smooth, the Era boasts speeds up to 336 FPS and features a forgiving 7 ¼" brace height. Built for the long haul, the Era allows archers to experience superior accuracy and strength on a lightweight and compact package that's warm to the touch and backed by an industry-leading Limited Lifetime Warranty & Hunt Guarantee.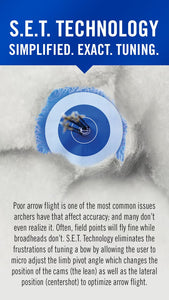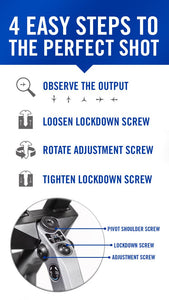 ADJUSTING S.E.T TECHNOLOGY
Elite's proprietary S.E.T. Technology offers adjustments that optimize arrow flight and the bow's performance to enhance accuracy.
S.E.T. Technology is adjusted based on the arrow flight you are getting out of your bow and can be determined by paper tuning, bare shaft tuning, or broadhead tuning.
S.E.T. TECHNOLOGY ADJUSTMENT
From the neutral middle position, you can adjust S.E.T. Technology up to 3 degrees in either direction, equivalent to 1.5 revolutions of the micro-adjust screw.
S.E.T. TECHNOLOGY TOOLS
The only tool needed is a 5/32" hex key; no bow press or special tools are required. S.E.T. Technology is the fastest bow tuning technology available today.
S.E.T. TECHNOLOGY ADJUSTMENT RANGE
To start, rotate the top and bottom micro-adjust screw equally 1/4 turn. Then, reset the center shot on the bow and retest.
CENTERSHOT WITH S.E.T. TECHNOLOGY
Since the center shot is adjusted with S.E.T. Technology on select Elite models there is not a single correct measurement to reference. The best approach is to set the arrow rest position by keeping the knocked arrow parallel to the riser and maintain this as S.E.T. Technology is adjusted. The center shot will likely fall between 11/16" and 15/16" depending on the tune of the bow.