TriggerTech Precise Trigger Control
TriggerTech's beginning traces back to one hunt. Mats Lipowski missed a buck at 40 yards because of a gritty, creepy, 9-pound trigger. Knowing there had to be a better way to get off a clean shot, he collaborated with fellow mechanical engineer Greg Baniak to not just improve the trigger " but to reinvent it entirely.
The first TriggerTech prototype was born in 2012. Its Frictionless Release Technology™ is what makes all the difference: a free-floating roller between the sear and the trigger means a smoother, lighter trigger, unlike anything you've ever felt before.
• Precise trigger control
• Custom build
• 3lb zero-creep release
• Nock sensor minimizes dry fires
• Silent safety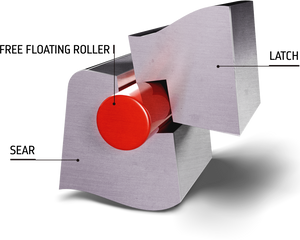 TECHNOLOGY FEATURED ON ALL BARNETT CROSSBOWS
Barnett is the world's No. 1 producer of crossbows because we scrutinize every aspect of every product. We focus on precision, safety, and performance taking care of all the details so you can take care of business.
ALL BOWS
SOFT-LOK FLOATING BRISTLE ARROW RETAINER
This patent-protected technology self-adjusts to create downward pressure on a properly loaded arrow " adding another line of safety to keep arrows secured.
CROSSWIRE®STRING AND CABLES SYSTEM
Crosswire® makes the best premium strings and cables available for crossbows. The woven design is strong and long-lasting, and many models also feature color accents.
PREMIUM SCOPES OR RED DOT SIGHT
Whatever crossbow model you choose, you'll find an optic to enhance its performance: from top-of-the-line illuminated scopes to quick-reacting red dot sights.
ANTI-DRY FIRE TRIGGER
A spring-loaded safety bar remains in place until the arrow is seated properly to protect the user from shooting the crossbow without an arrow fully loaded.
METAL INJECTION MOLDED (MIM) TRIGGER
MIM triggers have the tightest quality tolerance available. This accounts for the refreshingly smooth 3.5-pound trigger pull.
ROPE COCKING DEVICE
You can't shoot a crossbow if you can't load it. We make sure every Barnett crossbow has a sturdy, user-friendly rope cocking device by its side that slices draw weight in half.
CNC MACHINED PICATINNY RAIL
Optics, quivers, bipods, vertical foregrips, lights, whatever accessory you desire, CNC machined Picatinny rails on all Barnett crossbows can accommodate them " so you can customize your crossbow just how you want it.
HEADHUNTER™ARROWS
Barnett's top-selling bolts for superior crossbow performance, Headhunter™ arrows fly sure and straight. Equip them with broadheads on hunts or use field points for target practice.
SELECT BOWS
CARBONLITE RISER
Barnett's patented carbonlite design removes nearly 43% of the weight from the front of the crossbow. This shifts the balance point to the shoulder so you have more control.
STEP-THROUGH RISER
By integrating the foot stirrup directly into the riser assembly, step-through riser designs lengthen the power stroke without placing the cocking string beyond arm's length.
SIDEARM™ QUIVER
Compact, sleek, and functional: Barnett's SideArm™ quiver is all those things and more. The key behind this unique quiver is that it protects your broadheads in storage and transport. Moving the quiver to the side of the bow also aids in maneuverability.
RETRACTABLE UNDERARM COUNTER-BALANCE SUPPORT (RUCS)
The RUCS uses a foldable arm that extends from the stock and hooks under your arm to act as an equalizer. While the weight at the front of the crossbow pushes down, the pressure from the RUCS pushes the back of the bow up. These counteracting forces mean that when shouldered, you have so much control you could practically hold your crossbow with one hand.
CNC MACHINED ALUMINUM TRACK
CNC machining creates a precisely formulated aluminum flight track with a gun-metal finish. These crossbows will raise some envious eyebrows in both the look and performance categories.
STRING DAMPENERS
String dampeners don't add much in the way of bulkiness or weight. They subtract disadvantages instead of adding them: lessening vibrations and reducing sound for an improved shooting experience.
FOLD-DOWN VERTICAL FOREGRIP
Tactical rifle shooters will find this feature especially intriguing. One part safety and one part performance, the fold-down vertical foregrip moves your support hand safely below the rail while also enhancing performance with added control and stability.
ANTI-VIBRATION FOOT STIRRUP
Anti-vibration technology makes sure that once the foot stirrup has done its cocking job, it doesn't interfere with the bow's shooting performance.
CUSTOM COMPOSITE LAMINATED LIMBS
Lamination on the limbs makes them durable and smooth so they can perform longer and be stronger. And these aren't just any limbs " Barnett engineers custom-designed them, especially for use in Barnett crossbows.
MOST BOWS
SINGLE BOLT ASSEMBLY
Mostly assembled crossbows come packaged with hardware for assembly and disassembly. Just a single bolt stands between you and your crossbow being field-ready, so you can spend less time inside flipping through an assembly manual and more time outdoors doing what you love.
FINGER SAFETY REMINDERS
One of the top mistakes crossbow shooters make is placing their fingers on the rail. But Barnett crossbow owners don't need to learn that lesson the hard way; finger safety reminders on either side of the rail remind users to keep their fingers out of harm's way.
PASS-THROUGH FOREGRIP
This feature aids in safety and function by providing an easily accessible foregrip below the rail. This keeps the shooter's fingers in a safe location and also provides more stability when operating the crossbow.
CRANK COCKING DEVICE COMPATIBLE
If you prefer other means of cocking your crossbow, simply remove the cheek piece and install a compatible crank cocking device.
ADJUSTABLE BUTT PAD
The adjustable butt pad can be extended to suit the user's desired stock length for added comfort and a better fit when shouldering the crossbow.