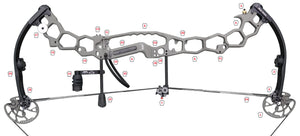 APA COMPOUND BOW
1. Cam Lock
2. Rotating Draw Stop
3. Twin Flex Limbs
4. Camera Mount
5. Riser Fang
6. Soft Touch Armour
7. Micro Tune
8. Carrying Handle
9. Replaceable Grip
10. Direct Mount Sling
11. Tool Center
12. String Dampener
13. Front Stabilizer Mount
14. Mass Transfer Module
15. Rear Stabilizer Mount
16. XS Tune Module
17. Weight Distribution System
18. Dual Rest Mounting Screws
19. Center Shot Indicator
20. Dual Sight Mounts
21. Top MTM Mount
22. Hand Position Reference Groove
23. Nock Point Alignment Zone
24. Variable Yoke Technology
25. Torque-Free Limb Anchor
APA TECHNOLOGY
CAM LOCK
APA's innovative Cam Lock allows the average archer to replace strings or cables, make adjustments, install accessories and tune their bow without the need of a standard bow press.
RDS
APA's Rotating Draw Stop (RDS) allows the archer to have a rock-solid back wall at any draw length or draw weight while still providing the highest level of performance. When combined with APA's extremely efficient M1 Cam and Easy-Tune mods, it allows the archer to personalize, adjust, and fine-tune the feel of their bow at full draw. A true game changer!
TWIN FLEX 2
Until now traditional solid limbs stored energy only in the solid portion, leaving the forked end ridged. APA's Twin Flex limbs are engineered to allow the forked section to flex, distributing the load amongst two separate working areas and enabling the storage of more energy.
The Twin Flex limb raises performance, lowers physical weight, reduces decibel levels, and smooths out the draw cycle while maintaining APA's slim profile.
CAMERA MOUNT
Capture your hunting experience from a first-person view. Camera Mount Kit required.
RISER FANG
APA's signature fang enables you to hang your bow directly onto any branch or limb without any additional equipment.
SOFT TOUCH ARMOUR
Minimizes contact noise & warmer to the touch
MICRO TUNE
Quick easy one screw adjustment.
CARRYING HANDLE
Revolutionary handle that provides easy carrying and creates forward weight. Also increases stiffness in the riser acting as a support bridge, decreasing hand shock.
REPLACEABLE GRIP
The slender torque-resistant grip that allows consistent hand placement, adding accuracy.
DIRECT MOUNT SLING
Promotes safety and ease of use.
TOOL CENTER
CARBIDE SHARPENER, CAM LOCK, PINNOCK WRENCH, BROADHEAD WRENCH
STRING DAMPENER
Reduces string vibration.
FRONT STABILIZER MOUNT
MASS TRANSFER MODULE
APA's compact and innovative Mass Transfer Module (MTM) is engineered to control the front and back, the side-to-side balance of your bow, minimizing hand torque. It maintains a sleek profile making it ideal for all hunting scenarios. Quick easy one screw adjustment.
REAR STABILIZER MOUNT
Allows archers to properly balance their bow.
XS TUNE MODULE
APA's XS Tune high-performance modules are available in ½" increments. Designed to simplify timing and minimize cam lean.
WEIGHT DISTRIBUTION SYSTEM
APA's Weight Distribution System (WDS) allows you to add disc weights to the top or bottom of the riser on both the left and right sides to customize the feel and balance of the bow. The Weight Distribution System allows the archer to position the weight strategically to achieve maximum stability with the least amount of weight added by positioning your weight as far away from the hand position as possible. Keeping your overall setup lightweight and extremely stable. Just like balancing a canoe, weight must be positioned in the center.
DUAL REST MOUNTING SCREWS
A solid rest mounting system.
CENTER SHOT INDICATOR
With APA's new Center Shot Indicator, setting up a bow has never been easier. Simply remove your pin from the tool center, install it in the precision drilled hole on the riser above the arrow, align your arrow with the laser etched indicator line and you are set. All there is left to do is get shooting!
DUAL SIGHT MOUNTS
Multiple sight positioning
TOP MTM MOUNT
Additional balance tuning.
HAND POSITION REFERENCE GROOVE
Machined groove for consistent bow hand positioning.
NOCK POINT ALIGNMENT ZONE
With the Nock Point Alignment Zone that is machined into our riser, you can leave the bow square at home. With one quick easy look adjust your arrow to the machined lines and your nock point is set and ready to go!
VARIABLE YOKE TECHNOLOGY
The Variable Yoke Technology allows the yokes of your buss cables to automatically settle exactly where the bow needs them to be for the most efficient and tunable solution ever, Pairing the VYT with our Micro Tune system, gives us the most tunability of any compound bow has ever had. This feature will ensure you are fully tuned quicker and easier resulting in increased accuracy, which will give you more time in the field instead of on the range!
TORQUE-FREE LIMB ANCHOR
APA's all-new Torque-free limb anchor gives you the perfect place to securely tie in your limb-driven drop-away rests, Placed in the perfect spot to eliminate side torque on your limb forks for increased accuracy, It will ensure easy and efficient operation of any limb-driven rest!