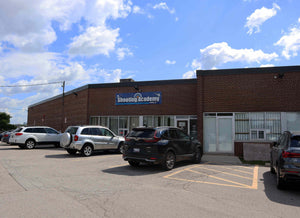 WHERE TO MEET US
40 CONTINENTAL PLACE
TORONTO, ON
M1R 2T4, CANADA.
(South of 401, North of Ellesmere, off Warden)
Please contact us during our regular business hours at (416) 551-1610
You can also text or call us at (647) 335-7004
Online orders or inquiries, please call or text us at (905) 744-7004
PRO SHOP & ACADEMY HOURS
Tuesday to Friday:
12:00 p.m. - 8:00 p.m. EST
Saturday & Sunday: 10:00 a.m. - 6:00 p.m. EST
Monday: CLOSED

OUR SHOOTING ACADEMY
Learn to Shoot from Our Experienced Coaches
Learn safety, knowledge & techniques from our experienced coaches at Shooting Academy. Our custom designed training programs in Archery, can help you to learn this unique challenging sport easier & faster. We have the largest indoor shooting range in GTA for Archery Shooters.
We also offer other trainings such as; Olympic style & Hunting levels. Recurve, Olympic, Compound, Horse, Long & Crossbows are also available to train you professionally.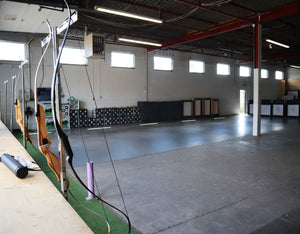 EXPLORE OUR PRO SHOP
Find the best shooting equipment and archery accessories directly at our pro shop. Explore all hunting Bows, Olympic Bows, Traditional Bows, Crossbows, Beginner Bows, and more from top-notch brands around the world. Our experienced staff will help you with customized suggestions and fit the best bow for your shooting style and preferences.
MAKE IT YOUR PERFECT BOW
FREE SETTING, TUNING, SIGHTING & SHOOTING FOR 1-HOUR IF YOU BUY ANY EQUIPMENT FROM US.
We don't just sell a bow, we tune and test the bows before you get them in your hands.
We provide complete bow setup and tuning services as well as advice on product selection and usage at our pro shop. We have 10 yards to 30 yards indoor ranges for your test shooting with a qualified bow expert.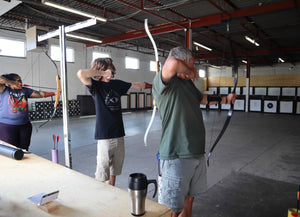 OUR INDOOR RANGES FOR PRACTICE
BEGINNERS RANGE: 10 Yards range for beginners. We provide archery training and coaching for beginners, where you will get one hour range time with 10-15 minutes of instructions. Beginner's bows, arrows, and targets will be provided.
20-30 YARDS INDOOR RANGE: We offer training in intermediate and advanced levels of archery as 4 hours/6 hours packages for beginners in the larger range. We also provide specialized training for compound, Olympic, longbows, Mongolian, recurves as well as horse bows. Shooting bows and targets will be provided.
Experienced archers can rent the range time per hour or buy a membership that includes range time per week or at a reduced price.
AIRGUNS AND KNIFE-THROWING: Take advantage of our Airgun rifle and handguns shooting and knife throwing ranges. We provide instructions and coaching for these activities as well in our range.
We sell airguns and knives as well in our pro shop.
ORDER ONLINE & PICKUP AT STORE
Use the store pickup method while you order online for a quick and more convenient shopping experience.

You will receive a call or text letting you know the order is ready to pick up at the store. Please show us the online receipt for the order and an ID while you pick up the order at the store. This service is offered to customers who live in GTA or nearby areas.